Welcome to the International Amateur Radio Union Region 1 Homepage. The federation of national associations of radio amateurs from Europe, Africa, Middle East and Northern Asia.
The International Amateur Radio Union (IARU) is a federation of national associations of certified radio amateurs, representing over 150 countries and separate territories around the world.

The three IARU Regions are organised to broadly mirror the structure of the International Telecommunications Union (ITU) and its related regional telecommunications organisations. The Regions comprise:
- IARU Region 1: Europe, Africa, the Middle East and Northern Asia
- IARU Region 2: The Americas
- IARU Region 3: Asia-Pacific

The IARU represents the interests of the Amateur Radio Service worldwide to relevant international organisations, promoting the interests of amateur radio and seeking to protect and enhance its spectrum privileges.
International Amateur Radio Union - Region 1
Details

Category: Youth - general
Published: Tuesday, 24 May 2016 21:09
Written by ES5TV, 9A5W
Hits: 1985
In 2016 we continued IARU R1's Youth Contesting Program (YCP). Youth from Region 1 travelled to the station of ES5TV (ES9C) and took part in the ARI International DX contest while another group went to 9A1A to take part in the CQ-M International DX contest.
The youngsters have written down a summary of the amazing experience they had during both contests, you can read them below:

ES9C
Peter (SA2BLV) from Sweden, Teodora (LZ2CWW) from Bulgaria, Dagi from ET3AA club station in Ethiopia and Fiodor (IZ7YBG) from Italy travelled to compete together with ES youngsters (ES7GM, ES5HTA) and a few local old timers at the station of ES5TV. The goal of winning the world was supposedly met with plenty of margin despite horrible propagation and somewhat limited contesting experience. Everyone was able to try out contesting in 3 different modes and 3 different operating positions (RUN/S&P/MULT). Having all the stations interlocked to each other provided the ops with a great challenge of trying to synchronize with each other's transmissions and avoiding getting killed by the mad RUN op who was blocked by 4 different stations all the time. Due to having another contester born into my family (ES5TV) Sunday morning I was not able to be present but everyone was having plenty of fun without it. Not to mention abundance of food prepared by Tonu, ES2DW on constant basis.
In total 1848 QSOs were made in Phone, CW and RTTY. Score: 3,086,350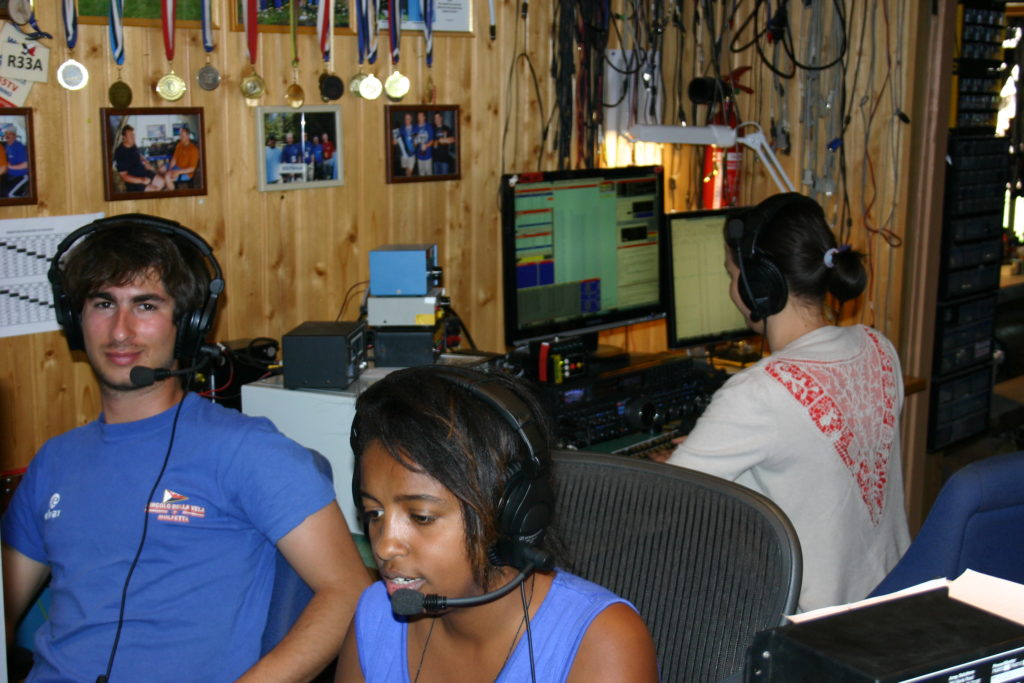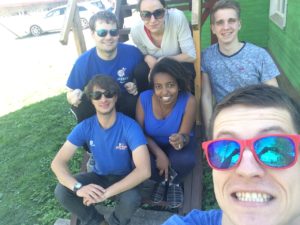 9A1A
Once again, the Croatian DX Club 9A1A, had the pleasure of being the host of the IARU Region 1 Youth Contesting Programme. Young contesters came from Hungary to participate in the CQ-M International DX Contest together with our club youngsters.
The members of the contesting team were the Hungarian youngsters Tomi (HA9T) and Novice OP Gabor; 9A1A young team members Mihaela (9A7MIM), Domagoj (9A7CDZ), Eugen (9A5AEV), Marina (9A5CKM), and Luka (9A5CPL); and experienced 9A1A team members Emil (9A9A), Braco (9A7R) and Nikola (9A5W).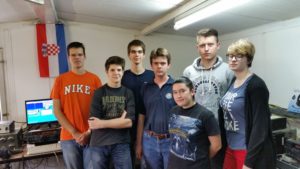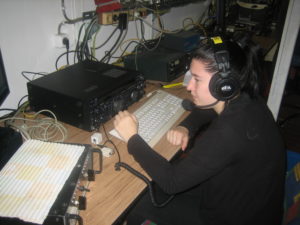 The youngsters arrived on the contest location on Friday May 13th where they spent the late afternoon and evening talking about the SAC SSB event, YOTA 2015 and future YOTA activities.
On Saturday morning in accordance to the contest rules the team prepared a strategy. With goal of allowing the young part of the team to handle the majority of the contesting participation.
We used the 9A1A call throughout the event. Equipment set up was as it is for Multi-Multi but with use of Multi OP-single transmitter contest rules. Propagation conditions were nice. A big surprise was that the there were 10 meter band openings on both days. As Saturday and Sunday were very rainy days, even with heavy rain showers, beverage antennas helped a lot to receive signals on 160, 80 and 40 meters bands.
Within 24 hours, 2273 QSOs were logged of which 90% were logged by youngsters!
It was obvious that they really enjoyed huge pile-ups on all bands after band or mode exchange.
Main business for 9A9A, 9A7R and 9A5W was coordination of band and mode use of the running station and multipliers.
In the end we achieved a promising score and we expect to be have top results in MOST categories.
Braco, 9A7R, was our main chef and took care of preparing food in big quantity and excellent quality.
Event impressions are excellent. Bigger than after SAC contest. World wide and multi mode contest gave the youngsters more fun and dynamcs in making QSOs. All of them agreed that in future 9A1A should organize YCP in such type of the contest.
Event was closed Sunday afternoon with pan-cakes in Velika Gorica, a city 17 km away from the contesting location. This city is also the was arrival and departure location for Tomi, HA9T and Gabor.
It was another nice occasion to exchange contest impressions, speaking about the possibility of a new YCP event in the second half of 2016 and in case that we repeat YCP participation in CQM 2017 how to improve QSO rates like some Russian stations did this year.
The youngsters' future plans in amateur radio were also discussed, where less experienced youngsters told us about their plans, specialy regarding knowledge of Morse code.
Details

Category: News
Published: Thursday, 12 May 2016 18:47
Written by Don Beattie
Hits: 1397
Over the last eight years, the booklet "Ethics and Operating Procedures for the Radio Amateur" has become a respected work describing the best standards of operating on the amateur bands. Translated into most major languages, the booklet by John Devoldere, ON4UN and Mark Demeuleneere, ON4WW, is a valuable reference work for all radio amateurs.
The booklet can be found at http://www.hamradio-operating-ethics.org/
Mark and John recently contacted IARU, explaining that they felt it appropriate for IARU to become the custodian of the booklet into the future, with the scope to adapt and update it to ensure it remains relevant and current.
The IARU Administrative Council accepted this offer with gratitude to John and Mark for the work they have put into the document. On May 5th 2016, Mark and John met Don Beattie, G3BJ, President IARU Region 1, in Brussels to officially hand over the document. IARU will now carry forward the work in future years to ensure its continuing relevance and currency.
Details

Category: Emergency Communications
Published: Monday, 02 May 2016 20:38
Written by Greg Mossop
Hits: 1862
24-26 June beings the largest gathering of Radio Amateurs in Europe and also the largest gathering of Emergency Communicators at HAMRADIO 2016 in Friedrichshafen. IARU Region 1 will be hosting a meeting for Radio Amateurs interested in Emergency Communications in Room Rom on Friday 24th June between 1200-1500 local time with the following preliminary programme ( times may change ).
1200-1245 Reports from the IARU regional Emergency Communications Co-Ordinators
1245-1345 Open forum for National Co-Ordinators to report on activities in their countries.
1345-1415 GlobalSET Report and ideas for this year
1415-1445 Open forum on changes to the IARU Emergency Message Procedure
1445-1500 Close and discuss Friedrichshafen next year.
The Working language for this meeting will be English.
On 25th June between 1000-1400 the DARC will be holding their fourth 'Notfunk Universitaet' in Room London. This 'University' will cover a wide range of topics including Crisis Preparedness in Lucerne, Emergency Communications Scenarios and the structure of the THW Short Wave network in Bavaria.
The working language for the Notfunk Universitaet will be German and more information will be available from DARC shortly.
Details

Category: Latest
Published: Thursday, 21 April 2016 18:04
Written by Don Beattie
Hits: 1816
Some 70 delegates from over 20 Member Societies were present at the Interim Meeting of the HF, V/U/SHF and EMC Committees of IARU Region 1 in Vienna 15-17 April 2016.
A wide range of issues was discussed, and recommendations from the meeting will be considered by the Region 1 Executive Committee at its meeting in early May 2016. If approved by the EC, these recommendations will become interim Region 1 policy until the next General Conference in 2017, at which time all Societies present will have the opportunity to ratify the proposals.
The input papers are available below as a matter of record:
Details

Category: Emergency Communications
Published: Monday, 18 April 2016 14:31
Written by Greg Mossop
Hits: 1907
Cesar Pio Santos HR2P reports that following the Ecuador Earthquake on 16th April, an emergency net has formed on 7060kHz LSB for passing messages between Ecuador Radio Amateurs in the most affected areas. Stations in adjacent countries are also monitoring that frequency ready to provide assistance if required.
While Echolink nodes had been the initial source of information from some areas, it is understood some nodes have now been turned off due to energy saving measures.
Radio Amateurs with propagation to South America are requested to keep 7060kHz clear.
Sources: HR2P, OA4BSA, OA4CLU
Details

Category: Emergency Communications
Published: Saturday, 16 April 2016 14:09
Written by Greg Mossop
Hits: 1459
Radio Amateurs in Portugal belonging to the Emergency Communications Group REP-SCERA will be taking part in a Civil Protection exercise on 17th April between 0800 - 1200 UTC. The exercise will focus on VHF/UHF frequencies in the Lisbon area but HF will also be used to establish a nationwide communications network, including the Azores.
The IARU Emergency Centre of Activity frequencies 7110 and 14300kHz are expected to be the primary HF frequencies used in this event.
Sources: CT1END, EA9CD
Details

Category: ARDF
Published: Tuesday, 12 April 2016 18:38
Written by Don Beattie
Hits: 1577
The World ARDF Championship will be organized in Albena, Bulgaria between 3 and 9 of September 2016. Albena is a high level resort at Black Sea coast. It is exactly the place where the last IARU Region 1 General Conference was held.
The Championship is expected to be a huge event. So far 374 participants from 33 countries from 4 continents have declared their intention to take part in it. The number is expected to reach 400 participants from 39 countries, thus beating the records to the moment.
All details (including those for some preliminary events) can be found in http://ardf2016.com/download/
Everybody is welcome, visitors, too.
Details

Category: Emergency Communications
Published: Monday, 04 April 2016 21:15
Written by Greg Mossop
Hits: 1350
A major emergency exercise started on 4th April in Spain. Exercise Gamma Sur will simulate an earthquake striking north of the City of Seville followed by a further earthquake in the area of Ceuta.
The exercise scenario will simulate many failures of infrastructure such as buildings, dams and communications as it grows from a Regional to a National Emergency. Radio Amateurs will play a part in the exercise as it develops and EMCOM SPAIN and REMER are both taking part. They are expecting to utilise the Winlink system to send data files also frequencies in the areas of the IARU Emergency Centre of Activity frequencies to confirm the flow of messages on the data system. The scenario will call for the total failure of normal communications at some point.
More information will be posted as the exercise develops but please be aware that there may be increased activity around the CoA frequencies.
UPDATE - Amateur Radio involvement in the exercise starts today ( 6th ), expected that 40m Emergency CoA will be in use.
The exercise will close on 7th April.