Welcome to the International Amateur Radio Union Region 1 Homepage. The federation of national associations of radio amateurs from Europe, Africa, Middle East and Northern Asia.
The International Amateur Radio Union (IARU) is a federation of national associations of certified radio amateurs, representing over 150 countries and separate territories around the world.

The three IARU Regions are organised to broadly mirror the structure of the International Telecommunications Union (ITU) and its related regional telecommunications organisations. The Regions comprise:
- IARU Region 1: Europe, Africa, the Middle East and Northern Asia
- IARU Region 2: The Americas
- IARU Region 3: Asia-Pacific

The IARU represents the interests of the Amateur Radio Service worldwide to relevant international organisations, promoting the interests of amateur radio and seeking to protect and enhance its spectrum privileges.
International Amateur Radio Union - Region 1
Details

Category: News
Published: Saturday, 01 July 2017 17:07
Written by IARU Secretariat
Hits: 312
IARU Aligns Satellite Coordination Guidelines with ITU WRC-15 Decisions
As the global federation of national associations of radio amateurs in more than 150 countries, the International Amateur Radio Union (IARU) for many years has provided frequency coordination services for amateur satellites free of charge. Often these satellites are constructed by students at universities and other institutions as a part of their educational experience. In general, they have been licensed to operate in the amateur-satellite service, which is defined by the Radio Regulations of the International Telecommunication Union (ITU) as having the "...purpose of self-training, intercommunication and technical investigations carried out by amateurs, that is, by duly authorized persons interested in radio technique solely with a personal aim and without pecuniary interest."
Some administrations have issued experimental licenses for such satellites operating in amateur-satellite frequency bands. The IARU has coordinated these satellites as well, to reduce the possibility of harmful interference that might result from uncoordinated operation. Since 1 July 2014 it has not been possible to coordinate experimental satellites in the 144-146 MHz band because of the high probability of harmful interference in this heavily used band.
Educational satellite projects have grown in popularity as launch opportunities have increased. In 2012 the ITU World Radiocommunication Conference took note of the proliferation of what in Resolution 757 (WRC-12) it called "nanosatellites and picosatellites" and invited WRC-18 (now scheduled for 2019) to consider steps to facilitate their deployment and operation. Two Reports, ITU-R SA.2312 (09/2014) and ITU-R SA.2348 (05/2015), are instructive regarding the characteristics, definitions, spectrum requirements, and notification procedures of and for such satellites, which generally must use spectrum below 1 GHz for operational reasons.
At the following WRC in 2015, in place of Resolution 757 the Member States of the ITU adopted Resolution 659 (WRC-15) in which it was noted that the use of 144-146 MHz and 435-438 MHz by non-amateur satellites is not in accordance with the definition of the amateur-satellite service in the Radio Regulations. Resolution 659 cites the two reports mentioned above and makes it clear that the spectrum needs of what are now called "non-geostationary satellites with short duration missions" should be met either within the service in which the space station is operating or within the space operation service. Further, if new or upgraded allocations to the space operation service are required, studies should be limited to the frequency ranges 150.05-174 MHz and 400.15-420 MHz.
Accordingly, effective 1 August 2017 the IARU will be following revised guidelines for satellite frequency coordination.
The strong preference is for all satellites using spectrum allocated to the amateur and amateur-satellite services to operate under amateur licenses and within the definition of the amateur-satellite service and the service-specific Article 25 of the Radio Regulations. The IARU believes the definition is sufficiently broad to encompass nearly all educational satellite projects that include giving students hands-on experience with radiocommunication and are conducted under an amateur license.
The IARU will only coordinate a non-amateur satellite if an administration directs in writing that it be operated in an amateur-satellite band under an experimental or other non-amateur license.
Satellites with combined amateur and non-amateur missions will continue to be coordinated.
Details

Category: Latest
Published: Tuesday, 20 June 2017 16:53
Written by Dennis Green, ZS4BS
Hits: 315
The International Astronomical Union on 13 April, rewarded the space physicist and radio amateur Asta Pellinen-Wannberg, SM3UHV, by designating a celestial body in her name, Asteroid 11807 Wannberg. 

The Swedish national amateur radio society SSA reports: 
Asta Pellinen-Wannberg is a professor at the Department of Physics at Umeå University. She has made a ground-breaking effort to use scattering radar when studying meteors that are activated when small particles penetrate the atmosphere.
The method is now applied to about ten stations around the world. It increases the ability to study different large flows, smaller particles and details in their interaction with the atmosphere, says Asta Pellinen-Wannberg.
Asta is chair of the Swedish National Committee for Radio Science SNRV and has researched together with Gudmund Wannberg, SM3BYA, who served as Technical Manager at EISCAT Radar in Kiruna and Associate Professor at Umeå University.
Details

Category: Latest
Published: Tuesday, 20 June 2017 09:57
Written by Dennis Green, ZS4BS
Hits: 307
Additional Papers for Committee 3, Committee 4 and Committee 5 have been uploaded to the Landshut Conference page at http://www.iaru-r1.org/index.php/general-conference/landshut-2017
C3 Papers
LA17_C3_01; LA17_C3_12a; LA17_C3_12b; LA17_C3_20; LA17_C3_50 and LA17_C3_51.
C4 Papers
LA17_C4_01; LA17_C4_02 and LA17_C3_19
C5 Papers
LA17_C5_01; LA17_C5_50 and LA17_C5_51
Also available on the Conference page is the Nominations for the Executive Committee as received by the Region 1 Secretary on 17 June 2017.
Details

Category: Youth - general
Published: Friday, 16 June 2017 15:19
Written by Lisa, PA2LS
Hits: 405
We are inviting you to join the International Youth Meeting:
Date: Saturday 15-7-2017
Time: 10.00
Place: Room Liechtenstein
Program:
- Welcome and short introduction of attendees
- Lecture of the youth contesting program at 9A1A, by HA8RT DK6SP OE3FTA
- Open mic, Share experience on youth activities. This is the moment to share your experiences on youth activities and to ask questions to other attendees.
As tradition we will end the meeting with a group picture
Youngsters On the Air
Members of the UK YOTA team will be in HAM Radio Friedrichshafen to receive the YOTA flag.
Everyone is invited to join on Saturday 15-7-2017, 15:30 hr, the flag ceremony.
The official YOTA flag will be handed over from the YOTA Austria 2016 team to the organizers of YOTA 2017.
We hope to see you at the RSGB stand!
Details

Category: IARUMS
Published: Sunday, 11 June 2017 04:28
Written by DK2OM
Hits: 645
The IARUMS Region 1 Newsletter May 2017 is now available. Click here!
Details

Category: Youth - general
Published: Wednesday, 24 May 2017 18:28
Written by Philipp, DK6SP
Hits: 664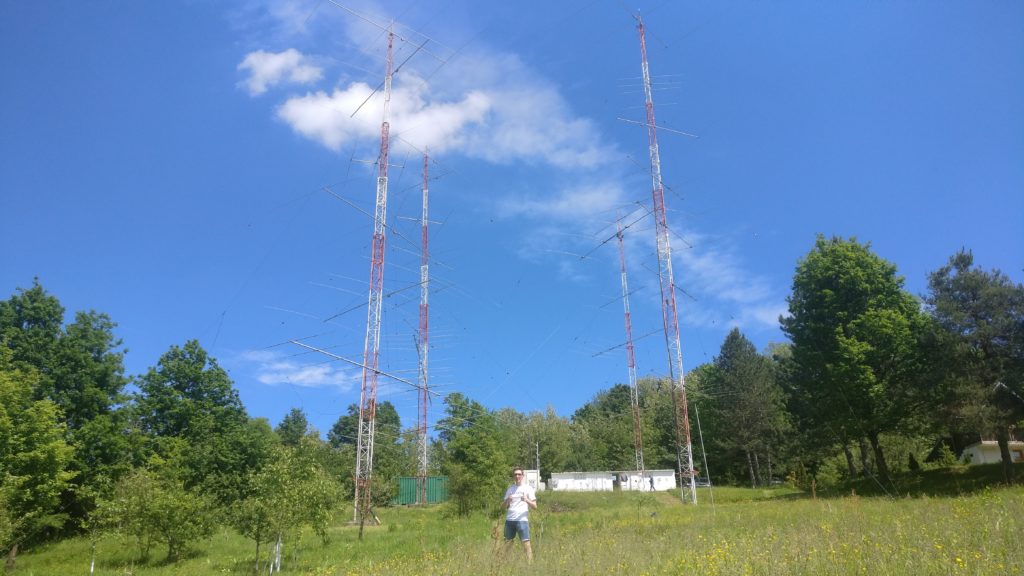 For a while now the YCP (Youth Contest Program) event has been organized by the Youngsters On The Air (YOTA) group, funded by IARU R1. It offers young hams under the age of 26 the opportunity to operate in a team during international contests from so called "Big Gun" stations around Europe. This includes the stations: ES5TV in Estonia, 4O3A in Montenegro, SK3W in Sweden or even 9A1A in Croatia. All levels of contest experience are accepted but a participant should have at least basic knowledge about contesting and using a transceiver. Also, the fun of contesting and the opportunity to learn new things about how to operate more efficiently in contests, are important points for the events success. This year three contests were announced on the webpage of YOTA to be in YCP 2017.
Read more: Youth Contest Program – Young operators visit 9A1A in Croatia
Details

Category: Latest
Published: Monday, 22 May 2017 09:24
Written by Dennis Green, ZS4BS
Hits: 659
The minutes of the 2017 EC Meeting, held from 5 to 7 May, can be downloaded here