Welcome to the International Amateur Radio Union Region 1 Homepage. The federation of national associations of radio amateurs from Europe, Africa, Middle East and Northern Asia.
The International Amateur Radio Union (IARU) is a federation of national associations of certified radio amateurs, representing over 150 countries and separate territories around the world.

The three IARU Regions are organised to broadly mirror the structure of the International Telecommunications Union (ITU) and its related regional telecommunications organisations. The Regions comprise:
- IARU Region 1: Europe, Africa, the Middle East and Northern Asia
- IARU Region 2: The Americas
- IARU Region 3: Asia-Pacific

The IARU represents the interests of the Amateur Radio Service worldwide to relevant international organisations, promoting the interests of amateur radio and seeking to protect and enhance its spectrum privileges.
International Amateur Radio Union - Region 1
Details

Category: Executive Committee
Published: Sunday, 25 February 2018 15:34
Written by Hans Blondeel Timmerman
Hits: 2045
Mats SM6EAN – Jacques ON4AVJ – Ole LA2RR – Hans PB2T – Joerg DH3JW – Tore LA9QL – Dave EI3IO – Don G3BJ – Alex IV3KKW – Séamus EI8BP – Lisa PA2LS – Andreas HB9JOE – Oliver Z32TO – Sylvain F4GKR – Reinaldo YV5AM
The 2018 EC Meeting was held 16-18 February 2018 at the DARC Headquarters in Baunatal Germany. The minutes can be downloaded here https://www.iaru-r1.org/index.php/documents/func-startdown/999/
Details

Category: Youth - general
Published: Saturday, 24 February 2018 17:41
Written by Gergana, LZ1ZYL
Hits: 1104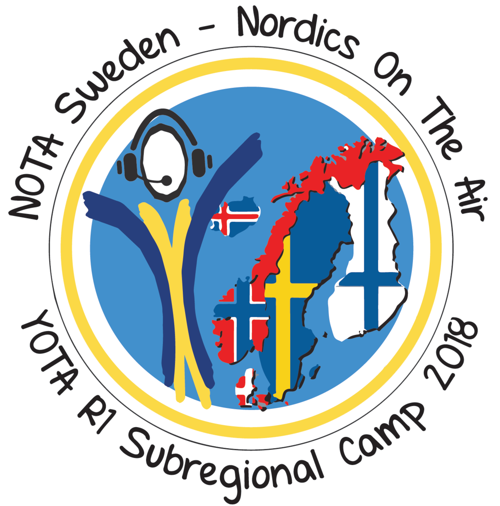 YOTA, as you know, is expanding its horizons more and more from this year onwards and we are glad to announce our first YOTA IARU R1 sub-project! It's called Nordics On The Air (or NOTA for short) and will be hosted by SSA. NOTA is essentially going to be a camp for young radio amateurs which will take place at Hemsö fortress in the middle of Sweden near Sundsvall/Härnösand. It will take place from March 1st to March 4th 2018. The camp is directed towards all the Nordic countries. The camp will be held on an island which is connected to the mainland by ferry. The campsite is inside an old large military base in a mountain. The shack and cafeteria are inside the mountain as well. There will be many outdoor activities during the camp. Breakfast, lunch and dinner as well as snacks will be catered and the food will correspond to normal Scandinavian food traditions. As of now, all the gear is set! Special thanks to everyone who helped making this event possible as well as a big thank you to all our sponsors!
At the camp there will be 3 working HF stations covering 20, 40 & 80 meters plus VHF using the call SK8YOTA. Here are some of the activities included in the program:
Tournament "Battle of Hemsön"
Lectures & Theory
Mountain BBQ
QSO contest
Off air contest
Along with other team building activities
Kit building
We hope to see you there and have a lot of fun at the Nordics On The Air camp!
Details

Category: Youth - general
Published: Wednesday, 14 February 2018 20:33
Written by Lisa, PA2LS
Hits: 1110
Unfortunately we have to inform that ROARS cancelled the youth participation in the CQWW 160m contest due to problems on the A44A side.
Details

Category: Emergency Communications
Published: Thursday, 01 February 2018 01:05
Written by Greg Mossop
Hits: 1677
1-3 June beings the largest gathering of Radio Amateurs in Europe and also the largest gathering of Emergency Communicators at HAMRADIO 2018 in Friedrichshafen.
IARU Region 1 will be hosting a meeting for Radio Amateurs interested in Emergency Communications in Room Rom on Friday 1st June between 1200-1530 local time.
The Working language for this meeting will be English and further details will be published closer to the event.
Details

Category: Youth - general
Published: Wednesday, 31 January 2018 20:24
Written by Lisa, PA2LS
Hits: 1186
In 2018 the Youth Contesting program of IARU R1 will be continued. Young members are invited to take part in a contest from one of the following stations:

• ES5TV: ARI International DX contest (5-6 May 2018)
• 9A1A: CQ M International DX contest (12-13 May 2018)
• EC2DX: His Maj. King of Spain contest (23-24 June 2018)
• 4O3A: CQWW RTTY contest (29-30 September 2018)

• A44A Oman (CQWW 160m contest SSB February 2018)
(applications closed)
Are you interested? Here you will find more information and also the application link.
Details

Category: Latest
Published: Sunday, 21 January 2018 09:34
Written by Dennis Green, ZS4BS
Hits: 1878
The South African Radio League (SARL) produces a weekly programme "Amateur Radio Today", one hour of focus on amateur radio and the technology that drives it. It is broadcast on Sunday at 08:00 UTC on 7 205 and 17 760 kHz AM on power full transmitters by Sentech from the Meyerton broadcast site. The prime target is Africa and the Near East, although transmissions are heard in other parts of the world. It is also broadcast on 7 082 kHz LSB from Durban, South Africa. There is a repeat broadcast on Mondays at 16:30 UTC on 4 895 kHz AM.
Every week we cover Happenings on the HF bands, VHF and Satellite News as well as activities in South Africa and International News. Coming up in the next few weeks, we will look at - Tutorials on the Amateur VHF, UHF and Microwave bands, a three-part series on "Amateur Radio as a Vehicle for Technology Literacy" and Cycle 24, propagation and the weather.
Reception report and comments on the programme are invited, the e-mail address is . The programme is also available for download from the front page of the SARL web site at http://www.sarl.org.za Please promote the programme in your country. We also invite you to send us news about amateur radio and technology in your country. We would very much like to do interviews about amateur radio in your country. Send an e-mail to This email address is being protected from spambots. You need JavaScript enabled to view it.The Interviews are done on Skype.
Join us in front of your radio every Sunday or Monday evening.
73, Nico van Rensburg, ZS6QL, SARL President
Details

Category: VHF/UHF/SHF
Published: Monday, 08 January 2018 04:27
Written by Verleijen Jacques
Hits: 1265
Details

Category: IARUMS
Published: Wednesday, 20 December 2017 08:04
Written by PB2T
Hits: 2007
It is with great sadness that we report the death of Ulrich Bihlmayer, DJ9KR, who passed away on 16 December 2017 after a long illness. Uli served in the DARC Bandwacht for 45 years of which 26 years as Coordinator. At the 2005 IARU Region 1 General Conference Uli was appointed deputy coordinator of the lARU Region 1 Monitoring System. Together with IARUMS coordinator Wolfgang Hadel DK2OM, he led a team that grew from 5 to 24 members. Being a polyglot, Uli specialised in broadcast intruders and pirates on telephony. Uli was presented the IARU Region 1 medal in 2011 before he stepped down from the IARU Region 1 Monitoring System in 2012. Our thoughts are with his family at this sad time.