Welcome to the International Amateur Radio Union Region 1 Homepage. The federation of national associations of radio amateurs from Europe, Africa, Middle East and Northern Asia.
The International Amateur Radio Union (IARU) is a federation of national associations of certified radio amateurs, representing over 150 countries and separate territories around the world.

The three IARU Regions are organised to broadly mirror the structure of the International Telecommunications Union (ITU) and its related regional telecommunications organisations. The Regions comprise:
- IARU Region 1: Europe, Africa, the Middle East and Northern Asia
- IARU Region 2: The Americas
- IARU Region 3: Asia-Pacific

The IARU represents the interests of the Amateur Radio Service worldwide to relevant international organisations, promoting the interests of amateur radio and seeking to protect and enhance its spectrum privileges.
International Amateur Radio Union - Region 1
Details

Category: Youth - general
Published: Saturday, 08 August 2015 13:56
Written by Don Beattie
Hits: 2493
IARU Region 1 has a rapidly developing youth programme to encourage the recruitment, growth and development of young people in Amateur Radio.

Modern standards require proper safeguarding of young people. The "IARU Region 1 Child Protection Policy" has therefore been implemented, which sets out the responsibilities of all those who are in a supervisory role during such IARU events.
For the full policy (pdf) click here
For Appendices 1-3 to complete ("Word" format) click here
Details

Category: Latest
Published: Friday, 07 August 2015 10:32
Written by Andy Thieman, HB9JOE
Hits: 2218
While spending their summer holiday in EA7 (Malaga, Spain) in the second part of July 2015,  IARU Region 1 Treasurer HB9FPM – Eva Thiemann and her OM Andy HB9JOE visited the Gibraltar Amateur Radio Society (GARS) in the presence of its Executive Committee and members. Local and regional Amateur Radio related discussions took place. Gibraltar is not part of CEPT and the authorities do not issue reciprocal licences for HF operation. But for some time it is possible to get a licence for operating on 6 and 2 m.
Eva, HB9FPM, and Andy, HB9JOE, thank GARS again for their warm hospitality. The participants can be seen on the photo.
Details

Category: Youth - general
Published: Wednesday, 05 August 2015 11:37
Written by Lisa, PA2LS
Hits: 1680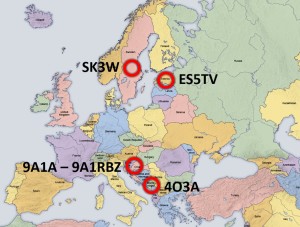 In 2015 a new Youth Contesting Program (YCP) of IARU R1 will start. Youth members from IARU R1 member societies are invited to take part in a contest from so called "Top-Gun" stations. These young HAM's will learn how to operate the contest station, improve their contest skills and will aim for the best results together as a team.
A youngster will probably be coming for the first time to the host country and will get the chance to experience this country and share amateur radio knowledge with local youngsters.
For more information and the application form visit this link.
Details

Category: Youth - general
Published: Monday, 20 July 2015 13:14
Written by Lisa, PA2LS
Hits: 2486
5th Edition of Youngsters On The Air started last Saturday in Marina di Massa, Italy. This year for the first time also teams outside Europe –Oman, Tunisia, South Africa– travelled to the YOTA event. All activities are organized by ARI and handled by ARI Tuscany Regional Committee.
The youth had already the opportunity to take part in a US license exam, tasted food and drinks from all countries and listened to a presentation from the Italian DXpedition team in Africa.
Follow the youngsters on www.ham-yota.com. They are actively posting blogs, pictures and movies. Or try to make a QSO with II5YOTA. This special callsign is active till 25th of July.
Details

Category: VHF/UHF/SHF
Published: Wednesday, 15 July 2015 16:12
Written by PA3CRX
Hits: 2881
Dear ATV operator,
This was the first time that the IARU contest was held in June, with the extended time period, possibility to gain points by getting portable and/or remote and the new (Excel) log sheet.
The number of stations that send in their logs:
in 2014: 33,
in 2015 it is 42!
We should consider this as a promise for next year.
Please click here for the final results. As you can see IQ3ZB is the winner this year, congratulations to the team with this result!
Several countries with (some) ATV activity are missing in the results. This is a pity because such an activity weekend is fun for everyone operating ATV.
Please see the map with all participating ATV stations in the ATV contest of 2015.
Also check-out www.dxspot.tv especially during the contest (you can look back a half year).
Hopefully you all enjoyed this ATV activity weekend and spread it around so we have next year even more participants. Having fun is most important!
To get others enthusiastic, you probably have to SHOW that ATV is fun! Not only in HAM meetings but also you could send a picture with your activity and some additional text to your national HAM magazine. May be you could get inspired by the new website http://eatf.org/" href="http://eatf.org/">http://eatf.org/
Details

Category: VHF/UHF/SHF
Published: Tuesday, 14 July 2015 09:59
Written by Verleijen Jacques
Hits: 2623
This was the presentation given by ON4AVJ about how proposals are treated to approve bandplanning, contesting, and technical matter in the IARU C5 committee: presentation FDH 2015; You will find the report in the VHF&up newsletter from July 2015
Details

Category: Licensing
Published: Friday, 10 July 2015 10:26
Written by Colin Thomas
Hits: 1905
The updated European Common Allocation table has now been published and is available at - http://www.ecodocdb.dk/Docs/doc98/official/pdf/ERCRep025.pdf
The main changes for the amateur service is the inclusion within the table of a band at 4 metres within the limits 69.9 - 70.5 MHz.   Footnote EU9 has been modified to read - EU9 CEPT administrations may authorise all or parts of the band 69.9-70.5 MHz to the amateur service on a secondary basis.   This is a stronger worded footnote than that previously used.
 This is another success for the amateur service within CEPT and thanks must be given to Region 1 Executive Committee member David Court EI3IO for all his hard work and expertise on this matter.
Details

Category: Youth - general
Published: Wednesday, 01 July 2015 21:09
Written by Lisa, PA2LS
Hits: 2072
Last Saturday the International Youth Meeting was held during HAM Radio Friedrichshafen. This event was hosted by German Youth Coordinator Annette, DL6SAK, and Youth WG Chair Lisa, PA2LS.
In this file you will find the slides of the following presentations:
Introduction of the new Youth Contest Program (YCP) of IARU R1 – PA2LS
YCP at 9A1A and youth projects of 9A1BRZ – 9A9A and 9A5W
Differences between German and US American Youth Communities – DO7KAY
In the end an interesting discussion took place, which was started by Kay DO7KAY, pointing out differences between German and US radio amateurs. Kay received for a year ARRL's QST Magazine. With this he had the chance to dig deeper in the background of US radio amateurs.
After that, one of the main topics was the difficulty of obtaining an amateur radio license. This seems to be a problem in several countries. Depending on fees, minimum age, location of examination, level of exam questions and learning material. The discussion on this topic will continue in the near future. When it is hard to obtain a license, we will never get many more young radio amateurs.