Welcome to the International Amateur Radio Union Region 1 Homepage. The federation of national associations of radio amateurs from Europe, Africa, Middle East and Northern Asia.
The International Amateur Radio Union (IARU) is a federation of national associations of certified radio amateurs, representing over 150 countries and separate territories around the world.

The three IARU Regions are organised to broadly mirror the structure of the International Telecommunications Union (ITU) and its related regional telecommunications organisations. The Regions comprise:
- IARU Region 1: Europe, Africa, the Middle East and Northern Asia
- IARU Region 2: The Americas
- IARU Region 3: Asia-Pacific

The IARU represents the interests of the Amateur Radio Service worldwide to relevant international organisations, promoting the interests of amateur radio and seeking to protect and enhance its spectrum privileges.
International Amateur Radio Union - Region 1
Details

Category: Emergency Communications
Published: Saturday, 16 April 2016 14:09
Written by Greg Mossop
Hits: 1583
Radio Amateurs in Portugal belonging to the Emergency Communications Group REP-SCERA will be taking part in a Civil Protection exercise on 17th April between 0800 - 1200 UTC. The exercise will focus on VHF/UHF frequencies in the Lisbon area but HF will also be used to establish a nationwide communications network, including the Azores.
The IARU Emergency Centre of Activity frequencies 7110 and 14300kHz are expected to be the primary HF frequencies used in this event.
Sources: CT1END, EA9CD
Details

Category: ARDF
Published: Tuesday, 12 April 2016 18:38
Written by Don Beattie
Hits: 1763
The World ARDF Championship will be organized in Albena, Bulgaria between 3 and 9 of September 2016. Albena is a high level resort at Black Sea coast. It is exactly the place where the last IARU Region 1 General Conference was held.
The Championship is expected to be a huge event. So far 374 participants from 33 countries from 4 continents have declared their intention to take part in it. The number is expected to reach 400 participants from 39 countries, thus beating the records to the moment.
All details (including those for some preliminary events) can be found in http://ardf2016.com/download/
Everybody is welcome, visitors, too.
Details

Category: Emergency Communications
Published: Monday, 04 April 2016 21:15
Written by Greg Mossop
Hits: 1472
A major emergency exercise started on 4th April in Spain. Exercise Gamma Sur will simulate an earthquake striking north of the City of Seville followed by a further earthquake in the area of Ceuta.
The exercise scenario will simulate many failures of infrastructure such as buildings, dams and communications as it grows from a Regional to a National Emergency. Radio Amateurs will play a part in the exercise as it develops and EMCOM SPAIN and REMER are both taking part. They are expecting to utilise the Winlink system to send data files also frequencies in the areas of the IARU Emergency Centre of Activity frequencies to confirm the flow of messages on the data system. The scenario will call for the total failure of normal communications at some point.
More information will be posted as the exercise develops but please be aware that there may be increased activity around the CoA frequencies.
UPDATE - Amateur Radio involvement in the exercise starts today ( 6th ), expected that 40m Emergency CoA will be in use.
The exercise will close on 7th April.
Details

Category: Uncategorised
Published: Monday, 04 April 2016 21:30
Written by Don Beattie
Hits: 2305
A world first! Thursday 11 February 2016, at 18:11 UTC, an educational ARISS radio contact took place at the Royal Masonic School for Girls, Rickmansworth, United Kingdom. The school contact was operated by Tim Peake, KG5BVI in the frame of the Principia mission. Read more here
Details

Category: Latest
Published: Thursday, 17 March 2016 06:16
Written by Panayot Danev, LZ1US
Hits: 2073
Every year in mid-March, thousands of radio amateurs gather in picturesque Italian town of Montichiari at HAM RADIO organized there. In fact it is a small copy of well known festival in Friedrichshafen, Germany.
But this year there was something new in the program. Piero Begali, I2RTF, well known producer of Morse keys/keyers initiated a HST event. The aim was evident – to attract new radio amateurs to CW and to the sport High Speed Telegraphy (HST). Many hams from different countries took part in the competition.
The winners:
Age category up to 25 (only two participants – obviously much has to be done to attract youngsters in CW):
1. Gabriele Del Sonno, IU2FQW
2. Enrico Lorenzoni, IU4AZC 
Age category 26 - 50:
1. Valery Petrov, R5GA
2. Oliver Tabakovski, Z32TO
3. Dino Maria, IK1LJK
Age category more than 50:
1. Ivan Ivanov, LZ1PJ
2. Helga Ferrante, IN3FHE
3. Panayot Danev, LZ1US
The organizers promised that event to be held every year. Combined with the HAM RADIO, the beauty of Montichiari and Italian hospitality it is worth to be visited.
Details

Category: Latest
Published: Monday, 07 March 2016 16:19
Written by Colin Thomas
Hits: 1513
From March 1st 2016 Belgian radio amateurs holding Class A (HAREC) licences can now use 5351.5 - 5366.5 kHz.   All modes are permitted with a maximum power of 15 Watts EIRP.
This permission is in line with the decision agreed at WRC-15.
(Source: BIPT)
Details

Category: Youth - general
Published: Wednesday, 10 February 2016 10:24
Written by Lisa, PA2LS
Hits: 1482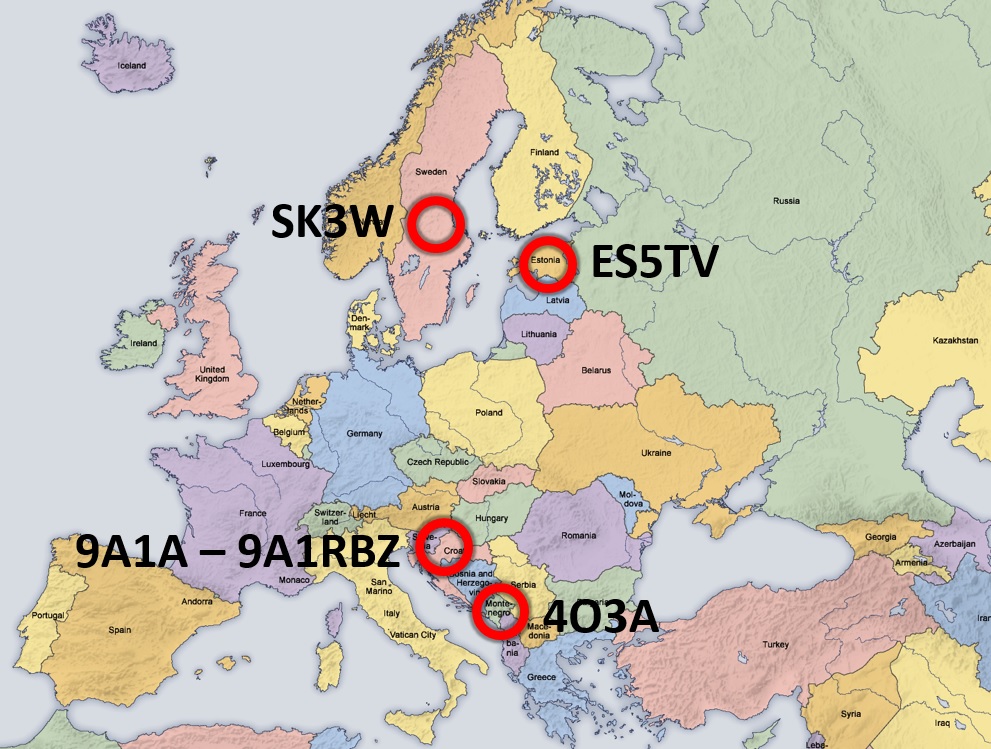 To follow up on the first successes in the Youth Contest Program of IARU R1 we will announce the new YCP contests of 2016. Youth members from IARU R1 member societies are invited to take part in a contest from so called "Top-Gun" stations. These young HAM's will learn how to operate the contest station, improve their contest skills and will aim for the best results together as a team.
A youngster will probably be coming for the first time to the host country and will get the chance to experience this country and share amateur radio knowledge with local youngsters.
On this page you can read stories from past YCP activities.
To get the real YCP feeling check out this movie of 4O3A's participation. 

For more information and the application form visit this link: http://www.ham-yota.com/youth-contesting-program/
Details

Category: Emergency Communications
Published: Saturday, 06 February 2016 14:09
Written by Greg Mossop
Hits: 2926
An earthquake measuring 6.4 has hit Taiwan, and caused buildings to collapse.
HARTS has received a weak voice signal from the CTARL Taiwan that asks that the following frequencies be kept clear.
HF frequencies used in Taiwan are voice: Main is 7.060 MHz with backup 7.050MHz and 3.560 MHz. Short range frequencies are on VHF and UHF.
At least four buildings have collapsed in the south of the island. Dozens of residents are reported to be trapped in the city of Tainan, those houses nearly two million people.
Tremors were felt in the capital Taipei, on the other side of the island, and aftershocks were felt.
Taiwan lies in the 'Pacific Ring of Fire' and in 2013, four people were killed in a 6.3-magnitude quake.
-Jim Linton VK3PC, IARU Chairman Disaster Communications Committee.